Do Dogs have emotions? Do any animals have emotions? Do we as pet owners understand their emotions? What are emotions exactly? Emotions are defined as "a natural state of mind deriving from ones's circumstances, mood, or relationships with others." (online dictionary) or as Wikipedia states "a positive or negative experience that is associated with a particular pattern of physiological activity." So, Do Dogs have EMOTIONS? YES, I believe they do!!
I listened to a speaker who said that Dogs do not understand their humans. That dogs don't have emotions or feelings. I was completely appalled. What do you mean dogs don't have common sense, emotions, or that my dogs don't understand me? How can you tell us that? How can you believe that? Then I asked myself "Do these other people really believe what he is saying about our beloved friends?" I know my family didn't believe him; in fact that made us want to leave; but believe it or not people actually agreed and were talking about how their pets don't have emotions or any understanding. I couldn't believe what I heard.
For us pet lovers we know that this is not true! Animals have feelings; they have emotions. Dogs emotions you see in their face and body language. A cat's emotions you hear with a MEOW or they want you to pay attention to them in some form of love or play. Dogs are very much like us; they react to things in so many ways and with many expressions and actions. I also believe this with many other different pets. They just have their very own way of showing us just as we do. Us as individuals show our emotions and feeling in different ways. Some show by face expressions while others use body language or others may voice their feelings and some write theirs down. We all express in different ways.
Our Lab, Duke, communicates very well. The Girls, the beagles, have some many expressions I could make a calendar with all of them. Think about that! Could that be why a lot of calendars are made? They show us so many ways of communication everyday. Duke, talks to us, he understands so many words and responds to us when we talk to him. By him talking, using his body language, and his expressions he lets us know what he is in need of or just simply what he wants. He will grab our hands to take us to where he wants to go and he can be very demanding about it at time.
The girls, they have so many facial expressions. They can use their long beautiful ears in ways I didn't think they could. Not only do they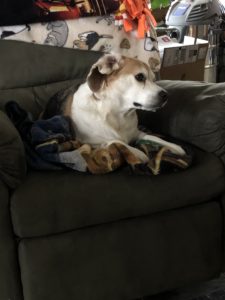 use their face and ears but their body language and two of them are extremely vocal. They love people, kids and love to socialize. And they are loud about it. Gracie is more quiet and our cuddlier. She is more shy when it comes to strangers and hides between our legs but she loves kids. Gracie communicates mostly with her expressions and actions.
As you have read, dogs have so many ways to show their emotions. This goes for any pet. They have feelings and thoughts just like we do and I feel we should use the good old saying " Treat Others as You would want others to Treat you" So, Treat Your Dog as You would Want to be Treated" and most of all Love!